THE HERITAGE OF THE GREAT WAR


Great Writings of The Great War

Flanders, by Otto Dix
Otto Dix, former German soldier, dedicated this painting to Le Feu (Under Fire), the book written by the French soldier Henri Barbusse. In our opinion Under Fire is the best novel that appeared during the war. Click on the picture to read it online.
---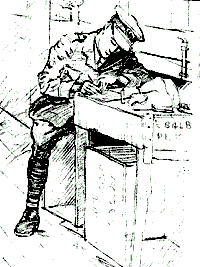 Below you'll find complete books on the Great War. They are in different formats; most are just plain text, others are html-files or pdf. They come from various sources: the Gutenberg Project, Bartleby, Eldritch Press, BookRags, the library of the University of Kansas, etc.
Of a few books we have at the moment excerpts only. As soon as the full texts are available we will replace them.
If you can't find the book you are looking for, then maybe it is not yet in the public domain. Books are copyright free 70 years after the author's death (in the European Union), or when first published before 1923 (in the USA). Click here if you want to know more about copyrights.
The books in the list below are already in the public domain. Take your pick (some may take time to load):

---
Prose
On the War in the Air

Less related but relevant

TomeRaider Files (You need a TomeRaider-program to read these files)

---

Verse
---

Many of these books are deep-linked from here. If one of the links appears dead, or if you know of the presence of other complete World War I books on the Internet, please let me know.

Click here for the Frontpage of the 'Heritage of the Great War'