Crippled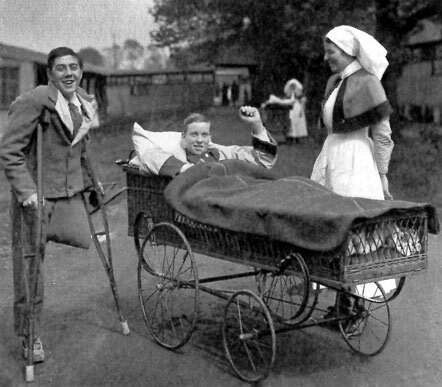 Young disabled soldiers at the Fourth London General Hospital
British nurse Eva Dobell served in many hospitals during the war. She used to write poems about some of her patients. Here follows Pluck:
---



Pluck

Crippled for life at seventeen,
His great eyes seems to question why:
with both legs smashed it might have been
Better in that grim trench to die
Than drag maimed years out helplessly.

A child - so wasted and so white,
He told a lie to get his way,
To march, a man with men, and fight
While other boys are still at play.
A gallant lie your heart will say.

So broke with pain, he shrinks in dread
To see the 'dresser' drawing near;
and winds the clothes about his head
That none may see his heart-sick fear.
His shaking, strangled sobs you hear.

But when the dreaded moment's there
He'll face us all, a soldier yet,
Watch his bared wounds with unmoved air,
(Though tell-tale lashes still are wet),
And smoke his Woodbine cigarette.




---

Click on the picture to see the next in this series or click here to go back to the summary page.
---