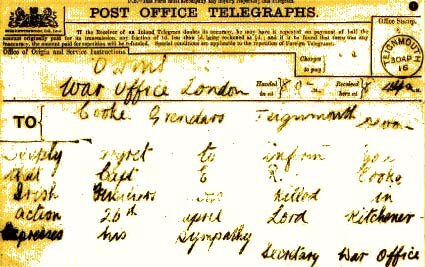 The feared telegram - "Regret to inform you..."
There came a sudden loud clattering at the front door knocker that always meant a telegram.
For a moment I thought that my legs would not carry me, but they behaved quite normally as I got up and went to the door. I knew what was in the telegram - I had known for a week - but because the persistent hopefulness of the human heart refuses to allow intuitive certainty to persuade the reason of that which it knows, I opened and read it in a tearing anguish of suspense.
"Regret to inform you Captain E.H. Brittain, MC, killed in action Italy June 15th"
"No answer," I told the boy mechanically, and handed the telegram to my father, who had followed me into the hall. As we went back into the dining-room I saw, as though I had never seen them before, the bowl of blue delphiniums on the table; their intense colour, vivid, ethereal, seemed too radiant for earthly flowers.
(Taken from 'Testament of Youth', by Vera Brittain)
---

Click on the picture to see the next in this series or click here to go back to the summary page.
---