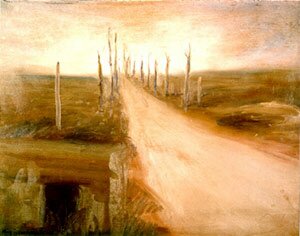 Picture: La Mélancholie de la Somme
Alone in a Tin Hut
In 1919, six months after the war ended, the Canadian painter Mary Riter Hamilton (PICTURE RIGHT) went to Northern France.
There she lived and worked alone in a tin hut, amid Chinese workers clearing the Western Front of war debris.
She was 46 years old. She lived under very uncomfortable conditions, with poor food, bad weather and danger due to criminal gangs that roamed the region.
During three years she painted the terrible, destructed landscape around her - but with an open eye for beauty. She made 300 paintings, many on canvas, but also on cardboard, paper and plywood. She worked with oil, charcoil and water colors.