THE HERITAGE OF THE GREAT WAR



From our 'War Picture of the Week' Archive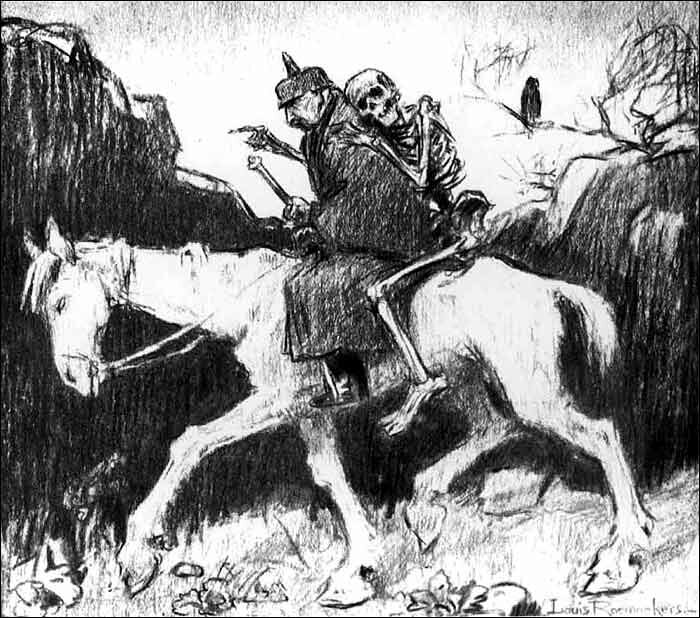 Death the Friend
Political cartoon, drawn by Louis Raemakers: Death is seated behind German emperor Wilhelm II and shows him which way to go.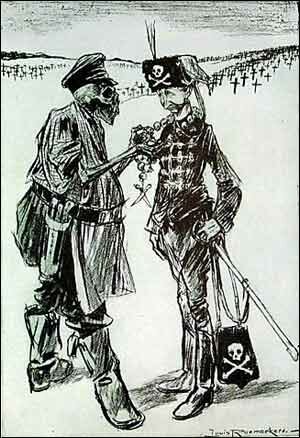 Initially Raemakers (1869-1956) worked for the Dutch (and fierce anti-German) newspaper De Telegraaf. These drawings were also published on a large scale in France (Le Journal and l'Illustration) and in England (Daily Mail and Daily Chronicle).
Germany repeatedly demanded steps against Raemakers, so in 1916 he temporarily moved to England. Supported by the British government his drawings were distributed in eighteen countries. He held hundreds of exhibitions; postcards and posters were made and British soldiers at the front received little picture-albums.
When France made him Chevalier de la Légion d'Honneur (a sort of knighthood), the German government offered a reward of 12,000 German Marks for Raemaekers' body, dead or alive.
Raemakers' favorite subjects were the German emperor, his son (the Crownprince - see this picture For Merit on the right

) and their inseparable companion Death.
When World War II broke out, the Dutch newspaper De Telegraaf switched sides and collaborated with the German occupation force in Holland. Raemakers quitted and went to England and later to the United States. In 1941 he stopped working altogether.

---

Click on the picture to see the next one in this series

To the index pages of the War Pictures of the Week

To the frontpage of The Heritage of the Great War
---