THE HERITAGE OF THE GREAT WAR


Saved From Execution: George Grosz

The Wanderer, 1934
(The original is in the Memorial Art Gallery of the University of Rochester, New York, but not on view)
By Rob Ruggenberg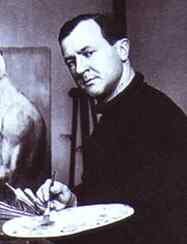 Of all artists who served as soldiers in the Great War, George Grosz stands out as one whose life was really incredible.
George Grosz was born in Berlin in 1893. On the outbreak of the First World War he volunteered for the German Army. In 1915 he was released as unfit for duty. However, in 1917, desperate for soldiers, Grosz was conscripted again. Kept from frontline action, he had to transport and guard Prisoners of War.
After trying to commit suicide in 1917, Grosz was send to an army hospital. Then he was court-martialed for insubordination and sentenced to death. One of his patrons, Count Kessler, saved him from execution. He was now diagnosed as suffering from shell-shock and was discharged from the German Army.
Anti-Nazi
After the war Grosz became a famous expressionist painter (DaDa-movement) and he was a leading anti-Nazi activist.
"Art is in danger", he wrote. "Today's artist, unless he wants to be useless, an antiquated misfit, can only choose between technology or class war propaganda. In both cases he must give up pure art. Either he joins the ranks of architects, engineers, and ad men who develop industrial strength and who exploit the world, or he, as depictor and critic of the face of our time, as propagandist and defender of the revolutionary ideas and its followers, enters into the army of the oppressed who fight for their just share of the worth of the world and for a sensible social organization of life."
Jesus Christ
A great deal of fuss arose when he published a shocking portrayal of Jesus Christ wearing a gas mask and army boots with the caption "Keep your mouth shut and do your duty", in 1924 in an album titled Hintergrund (Backdrop). The images in this album are of utter loneliness and despair. They not only depict the brutal reality of human condition, but also its radical hopelessness. Charged with blasphemy Grosz was at first found guilty but was then acquitted in 1932 during an appeal.
The Nazi's despised him. The Hannoverischer Courier wrote: "Among Germans who have a healthy, natural sense of judgment - experts as well as laymen - the artistic talents of Herr Grosz will find themselves much less esteemed. Grosz is a skillful political agitator, who uses his pencil, rather than words, for his propaganda. He does not belong on the side of German artists, but with Bolshevists or rather nihilist politicians."
No more communism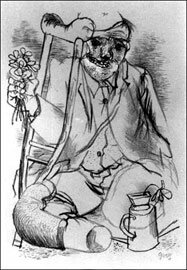 Grosz spent six months in Soviet Russia, meeting Soviet notables and observing the Proletariat Dictatorship firsthand. Disillusioned by what he had seen, he became gradually estranged from his left wing compatriots, devoting more of his energies criticizing totalitarianism in all its fronts. In 1933 his former communist friends branded him a "petty-bourgeois traitor and renegade".
Neverthelesss the Nazi's came after him and in 1933, after being harassed by Hitler's Gestapo, Grosz fled to the USA. Here he tried to start a new life, but his war experiences did not stop haunting him - see the oil painting The Wanderer above and his drawing The Hero on the right.
Utterly destructive
In an interview he said: "I start to paint a nude, sun, dunes, Arcadia, and grass, a good fine imagination... but alas, the more I go on with my work, it changes and all of a sudden there is fire and ruins and mud and grim debris all over... as if somebody more knowing and utterly destructive is leading me on."
He was not happy in the USA. The society that had prompted his earlier work, Weimar Germany and the Nazi Party, had confiscated and destroyed his works and revoked his citizenship; in his new land, it was inferred, Grosz was lost and his art with him.
He returned to Germany in 1959, saying "My American dream turned out to be a soap bubble", and died the same year.


To the Frontpage of The Heritage of the Great War