THE HERITAGE OF THE GREAT WAR / DE ERFENIS VAN DE GROOTE OORLOG


The Heritage
Guide to
Outstanding
Websites

---

Recommended
Links




The Heritage of the Great War does not maintain an extensive list of links. I recommend of the US Branch of the . It is a good and often updated list of links to WW1 resources on the Internet.

For a good, general overview of the First World War I recommend Michael Duffy's reliable , in my opinion the best Great War website on the Internet.

If you look for specific documents from the Great War, treaties, letters, speeches, reports, memoranda, ultimatums, declarations, telegrams etc, the best place is -page, maintained by Vincent Ferraro, professor of International Politics at the Mount Holyoke College in South Hadley, Massachusetts, USA.

Want to stay up-to-date with WW1-matters? Have a look at the , an online newsletter of the Great War Society. Announcements and reviews of exhibitions, seminars, news from the battlefields. You don't have to be member to access this newsletter. You can even subscribe to it!

. To commemorate the 80th anniversary of the end of the First World War six important European Great War Museums have put 110 paintings from international collections on the Internet. It is an excellent exhibition, well worth visiting.


De Erfenis van de Groote Oorlog onderhoudt geen uitgebreide lijst met WW1-links. Voor Nederlandstalige & Vlaamse links beveel ik aan de . Voor Engelstalige links: kijk op , een pagina van de Amerikaanse tak van de met goede links naar WW1 bronnen op het Internet.

Voor een uitstekend, algemeen overzicht van de Eerste Wereldoorlog beveel ik aan Michael Duffy's betrouwbare . Deze (Engelstalige) site heeft zich ontwikkeld tot de beste WO I website op het Internet.

Als je specifieke documenten zoekt uit de Eerste Wereldoorlog, zoals teksten van verdragen, brieven, toespraken, rapporten, ultimata, telegrammen en dergelijke, ga dan naar -pagina. Gemaakt door Vincent Ferraro, hoogleraar internationale politiek aan de Mount Holyoke universiteit in South Hadley, Massachusetts, VS.

Als je bij wilt blijven in WO1-aangelegenheden, kijk dan op de , een online nieuwsbrief van de Great War Society. Je vindt er aankondigingen en besprekingen van tentoonstellingen (ook in Europa), congressen en andere nieuwtjes. Je hoeft geen lid te zien om de nieuwsbrief te kunnen lezen. Je kunt je er ook op abonneren.

. Ter herdenking van de 80ste verjaardag van het einde van de Eerste Wereldoorlog hebben zes belangrijke Europese WO1-musea een schilderijen-tentoonstelling op het Internet gezet. Een prachtige collectie met 110 werken.

. Interviews met mondelinge overleveringen uit de Eerste Wereldoorlog, verzameld door de Elfnovembergroep (uit het gelijknamige Volksboek). Belangrijke orale geschiedenis op schrift gesteld.

Web Rings
The Belgian Army Historical SiteRing

This site owned by
Rob Ruggenberg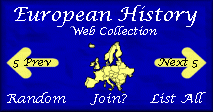 The Rail
(Educational sites about exploration, history, science and world culture)