THE HERITAGE OF THE GREAT WAR



From our 'War Picture of the Week' Archive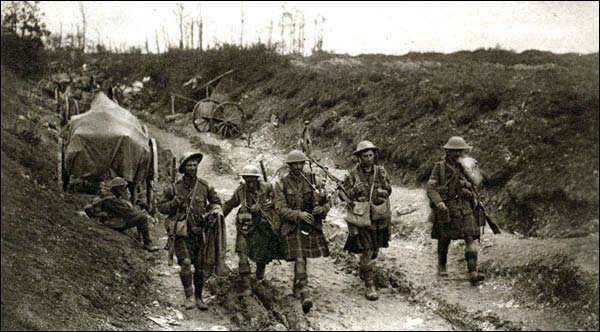 The price of fierceness

Sunken road, just behind the Somme frontline. British Highlanders with a bagpipe player, returning from the battle. Picture made in 1916.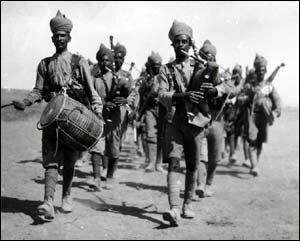 For centuries the noise of the pipes has struck fear into the hearts of enemy soldiers.
Other British troops - New Zealanders and Australians, and Canadians - used the pipes as well. And the picture on the right shows a group of Indian troops marching to the trenches led by bag pipes and drums.
In the early days of the war Scottish bagpipers leaped from the trenches in charges against the German machine guns, leading the troops through the hail of bullets. After some time an order was issued - pipers were to remain behind the trenches and not lead - because they became targets, and were killed faster than new ones could be taught.
Before the war commenced, the Scots were proud of their reputation as providers of the bravest and fiercest regiments in the British Army. At the onset of war no draft was required in Scotland, there was a veritable flood of volunteers. But the mood changed quickly when the scale of the carnage became apparent and streets, towns and villages were stripped of living young men. Eventually no country lost more people in combat, as a proportion of population, than Scotland.
---

Click on the picture to see the next one in this series

To the index pages of the War Pictures of the Week

To the frontpage of The Heritage of the Great War
---