THE HERITAGE OF THE GREAT WAR



From our 'War Picture of the Week' Archive



Meaningful victory at Vimy Ridge
Canadian troops (left and in the background) advance, while German soldiers (foreground) surrender.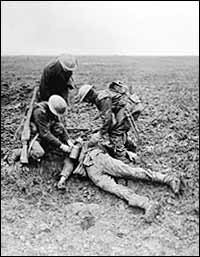 This picture of the Battle of Vimy Ridge, in Northern France, in April 1917, was made by Ivor Castle, Canadian army photographer. Castle has a reputation as maker of fake action photographs. This picture too is probably a montage (some researchers think that a part of the photograph was taken elsewhere during a training exercise).
Vimy did make a difference. After days of fighting, the Canadians controlled the entire ridge, at a cost of 3,598 men killed and 7,104 wounded - picture

. The Germans suffered approximately 20,000 casualties. The Canadians also took 4,000 Germans as prisoners-of-war.
Vimy Ridge was the first Allied victory in almost a year and a half. It was especially demoralizing for the Germans who had viewed the ridge as one of their most impregnable strongpoints.
To Canadians Vimy Ridge is historically meaningful. It was the first time in the nation's history that a corps-sized formation fought as a unit. This success of the Canadian forces earned Canada a place at the Versailles peace negotiations.
---

Click on the picture to see the next one in this series

To the index pages of the War Pictures of the Week

To the frontpage of The Heritage of the Great War
---