THE HERITAGE OF THE GREAT WAR



From our 'War Picture of the Week' Archive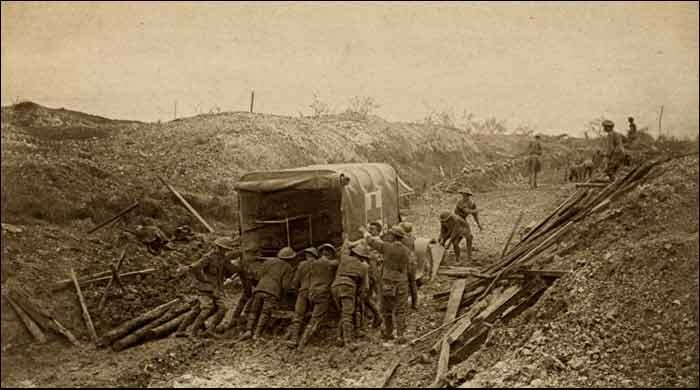 Ambulance
British soldiers pushing an ambulance car through the mud. Picture made on the Western Front, somewhere in Flanders.
The mud was a terrible enemy. When it began to rain it became almost impossible to move heavy guns or cars. The mud also made numerous soldiers slip and fall into the many treacherous, waterfilled shell holes wherein they drowned. The mud caused whole mass offensives to fail, such as the Battle of Passchendaele, in the summer of 1917.
Ambulance was not the name for the car, but for the whole medical unit. In British armies an Ambulance was composed of 10 officers and 224 men: stretcher bearers, wagon orderlies, drivers, cooks, etc. Such a unit usually had five to ten ambulance motor wagons.
The officers of an Ambulance were responsible for setting up Regimental Aid Posts, Bearer Relay Posts, Advanced Dressing Stations, Main Dressing Stations, Walking Wounded Collecting Stations and the medically well-equipped Casualty Clearing Stations (or Clearing Hospitals).
Nowadays when one visits the former WW I battlegrounds it is easy to find the places where the Clearing Hospitals were located: just look for the large war cemeteries...
---

Click on the picture to see the next one in this series

To the index pages of the War Pictures of the Week

To the frontpage of The Heritage of the Great War
---