THE HERITAGE OF THE GREAT WAR



From our 'War Picture of the Week' Archive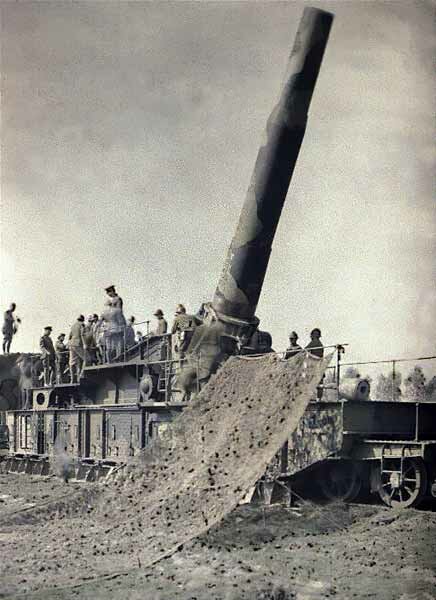 Camouflaging
French soldiers camouflaging a 370 mm railway gun.
Autochrome color picture made by an official photographer of the French army on September 5th, 1917, near the village of Heenkerke in Flanders, Belgium.
The deep roar of these enormous guns was terrifying. Conversation was impossible. To speak to a man beside him a soldier had to shout. Though the ears of the gunners were stuffed with cotton they ached and throbbed.
American journalist E. Alexander Powell witnessed in 1916 in the Champagne the effects of the 370's.
He wrote: The destruction wrought by the French artillery fire is almost beyond imagining. On what had been the German first line I saw a yawning hole as large as the cellar of a good-sized apartment house. It marked the site of a German blockhouse, but the blockhouse and the men who composed its garrison had been blown out of existence by a torrent of 370-millimetre high-explosive shells. The captured German trenches presented the most horrible sight that I have ever seen or ever expect to see. This is not rhetoric; this is fact. Along the whole front of fifteen miles the earth was littered with torn steel shields and twisted wire, with broken waggons, bits of harness, cartridge-pouches, dented helmets, belts, bayonets-some of them bent double-broken rifles, field-gun shells and rifle cartridges, hand-grenades, aerial torpedoes, knapsacks, bottles, splintered planks, sheets of corrugated iron which had been turned into sieves by bursting shrapnel, trench mortars, blood-soaked bandages, fatigue-caps, entrenching tools, stoves, iron rails, furniture, pots of jam and marmalade, note-books, water-bottles mattresses, blankets, shreds of clothing, and; most horrible of all, portions of what had once been human bodies...
Not the biggest guns. The French also deployed 400 mm and even 520 mm railway artillery.
---

Click on the picture to see the next one in this series

To the index pages of the War Pictures of the Week

To the frontpage of The Heritage of the Great War
---