THE HERITAGE OF THE GREAT WAR


REFRESHING AUSSIE SARCASM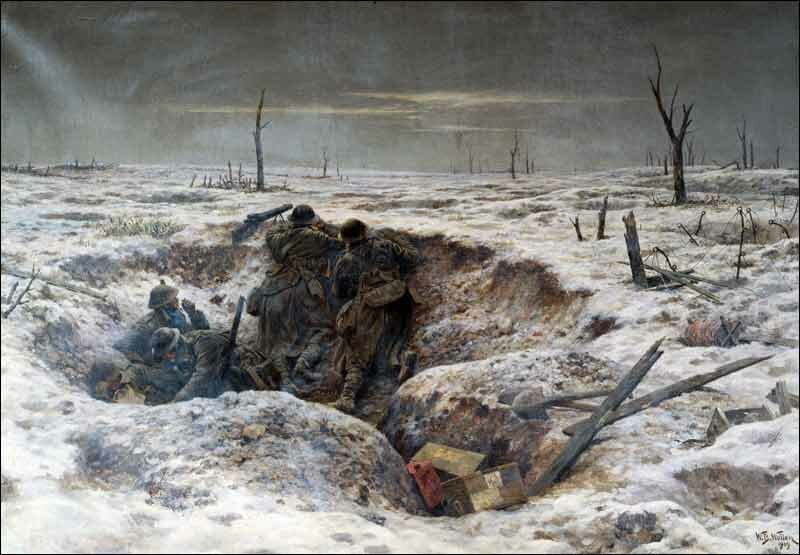 Christmas 1916: an Australian Observation Post near Fleurbaix, on the Somme front
(painting by William Barnes Wollen)
Christmas Day on the Somme
By Rob Ruggenberg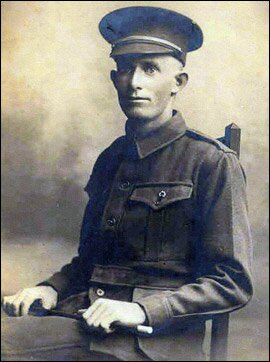 Australian soldier Leslie George Rub (picture on the right) fought and died in the Great War. He was single and one of nine children of a pioneering family (originally from Germany) in Drayton, Queensland. He was a carpenter by trade.
Like so many others he left a diary, some letters and a picture. From these his great-niece Julie Price is now compiling a small book. While reading his letters she came across a gem: the poem Christmas Day on the Somme, that her great-uncle apparently wrote in France, in 1916.
The poem does'nt have literary pretensions, but it is universal in expressing the feelings and experiences of the common soldier who tries to survive on one of the most terrible battlefields in history.
The cheerful sarcasm in which Leslie dipped his pen is so Australian, that the poem could not have been written by a soldier of any other belligerent country. Only Australians ridiculed the war (and their commanding officers) in this way. That makes this Christmas poem quite unique and refreshing.
The poem is published here for the very first time.
---
Christmas Day On The Somme

'Twas Christmas Day on the Somme
The men stood on parade,
The snow laid six feet on the ground
Twas twenty in the shade.

Up spoke the Captain 'gallant man',
"Just hear what I've to say,
You may not have remembered that
Today is Christmas Day."

"The General has expressed a wish
This day may be observed,
Today you will only work eight hours,
A rest that's well deserved.

I hope you'll keep yourselves quite clean
And smart and spruce and nice,
The stream is frozen hard
But a pick will break the ice."

"All men will get two biscuits each,
I'm sure you're tired of bread,
I'm sorry there's no turkey
but there's Bully Beef instead.

The puddings plum have not arrived
But they are on their way,
I'll guarantee they'll be in time
To eat next Christmas Day."

"You're parcels would have been in time
But I regret to say
The vessel which conveyed them was
Torpedoed on the way.

The Quartermaster's got your rum
But you may get some yet,
Each man will be presented with
A Woodbine Cigarette."

"The Huns have caught us in the rear
And painted France all red,
Pray do not let that trouble you,
Tomorrow you'll be dead.

Now ere you go I wish you all
This season of good cheer,
A very happy Christmas and
A prosperous New Year."
---
About the author
Leslie George Rub was 23 when he enlisted at Towoomba, Queensland, Australia on 25th August 1915. He sailed for Alexandria on board the H.M.A.T. Wandilla from Brisbane, Queensland. From Alexandria he was transferred from 26th Battalion to 2nd Pioneers because of his carpentry experience, and sent first to France, and then on to Flanders in Belgium. Some of the places he mentioned in his letters (that were not censored) are Ypres and Bullecourt (where a disastrous battle took place that engendered the greatest distrust and contempt in Australian troops for their British commanders). Leslie came out with a minor wound.
In autumn 1917, seven weeks after the start of the Third Battle of Ypres, Australian troops finally captured Westhoek Ridge, where German strongholds were manned by machinegunners. Three days later Leslie Rub and other men from his company were in the night making a road between Broodseinde Ridge and Westhoek Ridge when they were shelled. Leslie was hit in the kidneys by shrapnel. He died the next morning, on the 23rd September 1917, at the 1st Australian Ambulance. He is buried at Dickebusch War Cemetry, 5 km southwest of Ypres.
---

We have another Australian war poem on: We'll find the reason for Pozières

More on the Australian soldier's attitude in the Great War on: The Aussie Way of Discipline

To the frontpage of The Heritage of the Great War
---