THE HERITAGE OF THE GREAT WAR



Frank Hurley, "the mad photographer"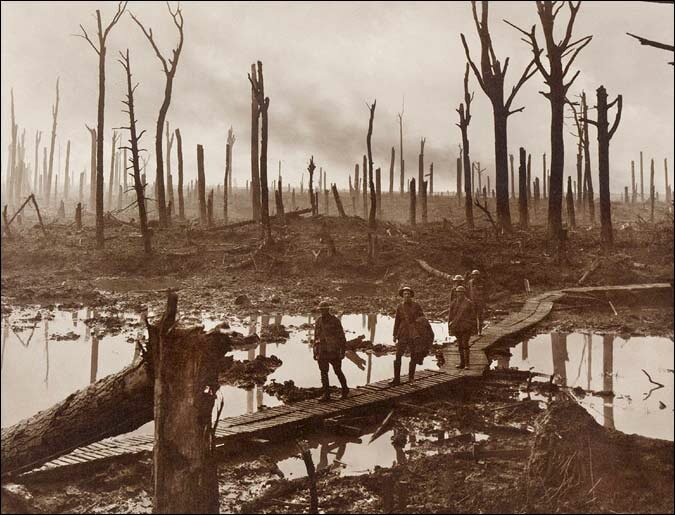 The Shell-Shattered Area of Chateau Wood, Flanders
(Picture by Frank Hurley, 1917)
---
By Rob Ruggenberg

In 1917 James Francis Hurley (1885-1962) became the first offical photographer to the Australian Imperial Forces. When he arrived at the Western Front his rank was honorary captain, but the troops, seeing how he took risks to get his pictures, dubbed him "the mad photographer".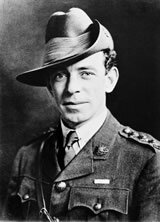 "To get war pictures of striking interest and sensation is like attempting the impossible," Hurley (PICTURE ON THE RIGHT) wrote in September 1917.
Hurley was an outstanding photographer. He had already earned a reputation as an tough adventurer, when he took part in the Endurance Trans-Antarctic Expedition led by explorer Sir Ernest Shackleton. Lionel Greenstreet, First Officer of the Endurance, said of him: "Hurley is a warrior with his camera. He would go anywhere or do anything to get a picture."
But the battlefront was too large, the cameras were too big and the shells did not land where and when Hurley needed them. Fruitless he and George Hubert Wilkins, the other Australian official photographer, tried to capture the reality of battle close-up. They needed light to make pictures, but anyone standing on the parapet of a frontline trench in daylight was likely to be shot by a sniper within seconds.
Hurley was a strong defender of pictorialism – the idea that photographs should express ideas, tell stories and excite emotions in much the same way as paintings – and finally he began to manipulate war pictures. Some of his most famous battle scenes are in fact composites of several negatives, although not many people know that (examples: 1 - 2).
Compromise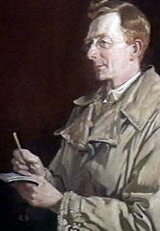 This brought him into a clash with the official Australian war historian Charles Bean (PICTURE ON THE RIGHT) who strongly disapproved of photography: "Press photography in this war is such a construction of flimsy fake… That is the last thing a historian wants to build on".
Bean forbid Hurley to show his 'fake photographs' in public. Hurley took it to the chief of the Australian forces, General William Birdwood, who negotiated a compromise. Hurley was allowed to make six composites for a London exhibition devoted to Australia's fighting in France, provided they were captioned as composites. In later exhibitions and publications these captions somehow disappeared and the public began to take all of Hurley's pictures as real.
A similar thing happened a couple of months later, in January 1918, when Hurley worked in Palestine. Bean was not there to stop him. Hurley borrowed 20 troopers and officers from General Harry Chauvel to film their procession through the recently captured streets of Jerusalem. The problem was that Australians took no part in the capture of Jerusalem – but that piece of film lives on, as if to prove they did.
On the next pages we show about 50 pictures by Hurley (some were made by his collegue Wilkins). Among them six manipulated pictures, a few others are posed, but the majority is real. They show what a exceptional photographer Hurley was. From his muddy pictures of the battlefields in Flanders to the deserts of Palestine and the animals of the Light Horse Brigade. Some critics say that Hurley was more an artist than a reporter. Whatever - these pictures show that he was also a storyteller - and what a great stories his pictures tell.
If you click here you get a slide show with all pictures. You can also choose a picture from our thumbnail-pages and click on them.
There are two of these thumbnail pages, numbering altogether more than 50 pictures. Take your time!


Choose a thumbnail page: 1 - 2


Frank Hurley was also an early adaptor of color photography. Some of the pictures he made with the Paget Plate technique are on the color photography pages of The Heritage of the Great War.

More on ANZAC forces in the Great War in the articles Trouble with undisciplines Aussies and Shooting Match: who really died in Gallipoli.

Back to the frontpage of The Heritage of the Great War.
---