THE HERITAGE OF THE GREAT WAR


Klik

voor een Nederlandse versie van deze tekst

War experiences of veteran J.R.R. Tolkien in 'The Lord of the Rings'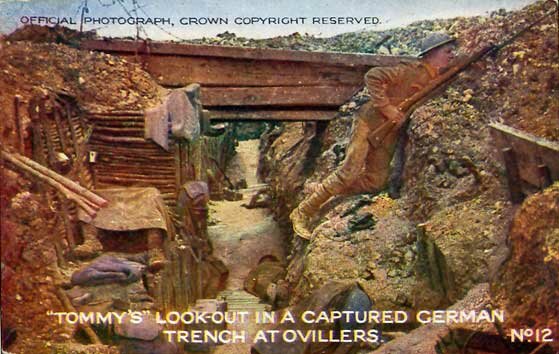 Trenches near Ovillers, where Tolkien went into the battle
Frodo and the Marshes of the Great War
By Nic van Holstein and Rob Ruggenberg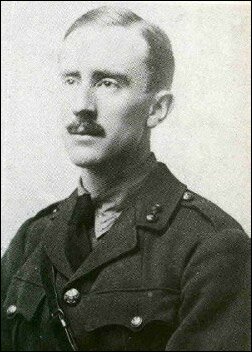 In a BBC television documentary Priscilla Tolkien, daughter of the late J.R.R. Tolkien, spoke about her supposition that the Journey through the Dead Marshes in The Lord of the Rings was in fact a description of the experiences her father had in The Great War.
During the First World War John Ronald Reuel Tolkien was a second lieutenant in the 11th Lancashire Fusiliers (PICTURE RIGHT). He had learned Morse code, the use of signal rockets and field telephones and he served in action as Batallion Signaling Officer.
In June 1916 he was sent to the Somme area in France to participate in the great offensive that was to start on the 1st of July. But in the first weeks of this terrible battle Tolkien's battalion stayed in reserve, safely behind the frontline, in the village of Bouzincourt.
Tolkiens first experience on the front came on Friday 14th July with an unsuccesful attack on the village of Ovillers. British gunfire should have destroyed the barbed wire defences in front of the German trenches, but it had not, as the men found out when they crawled and runned towards the German lines. Many of his battalion were killed by machine gun fire.
After 48 hours of carnage, followed by 24 hours in a dug-out, Tolkien's unit was relieved. When he returned to his hut in Bouzincourt he found a letter telling him that Rob Gilson, one of his dearest friends, had been hit by a shell.
Lieutenant Gilson had been in action on the 1st of July near Bécourt, not far from where Tolkien stayed. The letter was sent by another close friend, lieutenant Geoffrey Smith :
My dear John Ronald,
I saw in the paper this morning that Rob has been killed. I am safe but what does that matter? Do please stick to me, you and Christopher. I am very tired and most frightfully depressed at this worst news. Now one realises in despair what the T.C.B.S. really was.
O my dear John Ronald what ever are we going to do?
Yours ever,
Geoffrey B. Smith
Reading club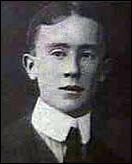 T.C.B.S. stood for the Tea Club and Barrovian Society. It was an unofficial and semi-secret reading club formed in 1911 by Tolkien (PICTURE RIGHT) and his friends Rob Gilson, Geoffrey Smith and Christopher Wiseman, who at that time were all students of the King Edward's School in Birmingham.
The boys shared an great interest in ancient languages, philosophy. literature, natural sciences, mathematics, arts and music. An intense friendship had developed between the four and although they went to different universities, they continued to meet each other. All four had joined the army, though they served in seperate units.
Tolkien wrote back to Geoffrey : "I do not feel a member of a complete body now. I honestly feel that the T.C.B.S has ended."
In the next weeks Tolkien participated in at least one of the disastrous stormings of the Schwaben Redoubt, an impregnable fortification of the German trenches. Again there were heavy losses in his battalion.
From then on he served on and off in the trenches. The desolate environment he lived in is shown in the picture at left, in which two British soldiers are cooking on a 'scrounged' stove in a trench near Ovillers, in July 1916.
Notebook
In his spare time off duty, in the barracks behind the front, and often disturbed by music from gramophones (as he would later say), Tolkien started writing in a notebook the beginning of a mythology that he initially called The Book of Lost Tales. He would never finish this book, although most of it would eventually be published as The Silmarillon.
In those months Death was omnipresent. Bodies of British and German soldiers lay unburied, stinking and rotting, around him in No Mans Land. Writing became for Tolkien a way to deal with this brutality and barbarity around him. He wrote whenever he found an opportunity, "in huts full of blasphemy and smut, or by candle light in bell-tents, even down in dugouts under shell fire". In a letter to his son Christopher, many years later, he explained :
"I took to 'escapism': or really transforming experience into another form and symbol with Morgoth and Orcs and the Eldalië (representing beauty and grace of life and artefact) and so on; and it has stood me in good stead in many hard years since, and I still draw on the conceptions then hammered out."
Those transformed experiences can easily be found in his books. For instance in the The Lord of the Rings Sam witnesses the death of a Haradrim soldier and realizes how much the enemy looks like himself :
"It was Sam's first view of a battle of Men against Men, and he did not like it much. He was glad that he could not see the dead face. He wondered what the man's name was and where he came from; and if he was really evil at heart, or what lies or threats had led him on the long march from his home; and if he would not really rather have stayed there in peace."
While many of his companions died, Tolkien remained unharmed, until he fell ill with severe trench fever at the end of October 1916.
Body Louse
Trench fever was a much feared infectious disease characterized by the sudden onset of fever with headaches, sore muscles, bones, and joints, and outbreaks of skin lesions on the chest and back. It was transmitted from soldier to soldier by the body louse - and those parasites were here abundantly, hidden in the clothes of the men who lived in the trenches under bad hygienic circumstances. Thousands of men had already reported sick with it.
First Tolkien was taken to a hospital in Le Touquet, behind the front. A week later, when his condition worsened, he was shipped to England. On the 9th of November he arrived in a hospital in Birmingham, the city he had lived in during his youth.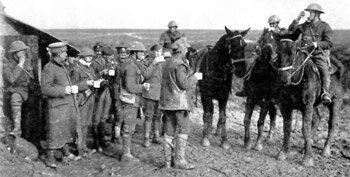 In the meantime, on the Somme front the slaughter went on, although less fierce, because the great British offensive had turned into a total failure. The picture on the right shows soldiers of Tolkiens battalion having a day off, drinking coffee behind the trenches near Ovillers. Only a few of them survived this hell.
In December 1916, while he was still in the hospital, Tolkien received another letter from his reading club companion Geoffrey Smith :
My dear John Ronald,
My chief consolation is that if I am scuppered tonight - I am off on duty in a few minutes - there will still be left a member of the great T.C.B.S. to voice what I dreamed and what we all agreed upon. For the death of one of its members cannot, I am determined, dissolve the T.C.B.S. Death can make us loathsome and helpless as individuals, but it cannot put an end to the immortal four! A discovery I am going to communicate to Rob before I go off tonight. And do you write it also to Christopher. May God bless you my dear John Ronald, and may you say things I have tried to say long after I am not there to say them, if such be my lot.
Yours ever,
Geoffrey B. Smith
When Tolkien got this letter his friend was already dead. Geoffrey Smith served with the 19th Battalion of the Lancashire Fusiliers. On 29th November 1916 the battalion was shelled near the village of Souastre, on the road from Doullens to Arras. Geoffrey was seriously injured by a shrapnel hit in a thigh and in his right arm. In the next days he developed gangrene. On 3rd December, at 3:30 in the morning, he died.
The next month, January 1917, Tolkien reported himself fit for orders. But soon he became sick again. His service record files (WO 339/34423) are largely concerned with the various health problems that dominated his time in the army. There are numerous reports made by army medical boards between December 1916 and September 1918 on Tolkien's recovery from trench fever - a slow process punctuated by relapses. Periods of remission enabled him to do home service at various camps sufficiently well to be promoted to full lieutenant - but he never returned to the front.
Killed or POW
In spring 1918 Tolkien received news that those of his battalion who were still serving in France were all killed or taken prisoner at the battle of the Chemin des Dames.
In the Foreword to The Lord of the Rings he wrote :
"One has personally to come under the shadow of war to feel fully its oppression; but as the years go by it seems now often forgotten that to be caught in youth by 1914 was no less hideous an experience than to be involved in 1939 and the following years. By 1918 all but one of my close friends were dead."
The only one left was Christopher Wiseman, who served in the navy. Wiseman survived the war and remained a lifelong close friend to Tolkien. He was one who more than once urged Tolkien to write the fantastic epic he thought and talked about so much.
In the first sentence in the Foreword to The Lord of the Rings Tolkien describes this trilogy as "a history of the Great War of the Ring". Many scenes and depictions in the book seem to come right out of the real Great War, for instance the wastelands created by the evil Sauron and Saruman.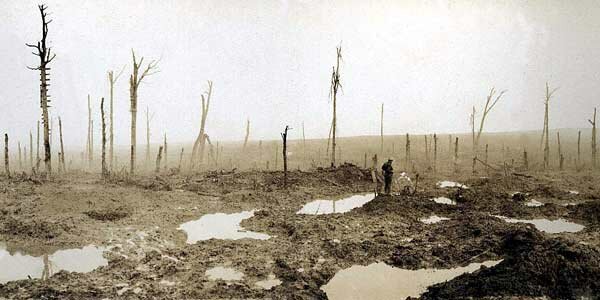 Battlefield in the Great War
Also, as Priscilla Tolkien pointed out, the Journey through the Dead Marshes (in The Two Towers), looks very much like a description of the marshy and swampy battlefields in Northern France and in Flanders. In the course of the war these areas were transformed into deadly mud swamps with slithery clay and shell craters filled with water and corpses. Innumerable soldiers lost their footing and drowned in those treacherous pits. Click here to see an example of how Tolkien used this in his book.
Some of the characters also originate directly from the war. Tolkien, discussing the principal characters in his novel, wrote :
"My Sam Gamgee is indeed a reflexion of the English soldier, of the privates and batmen I knew in the 1914 war, and recognized as so far superior to myself".
Click here to read an illustrated fragment from The Journey through the Dead Marshes. The reference to the Great War is unmistakable.
+++
---
Sources for this article.

To the frontpage of The Heritage of the Great War

If you want to know more about Tolkien, you can check these webring-sites: