THE HERITAGE OF THE GREAT WAR


Klik hier voor een Nederlandstalige versie van deze tekst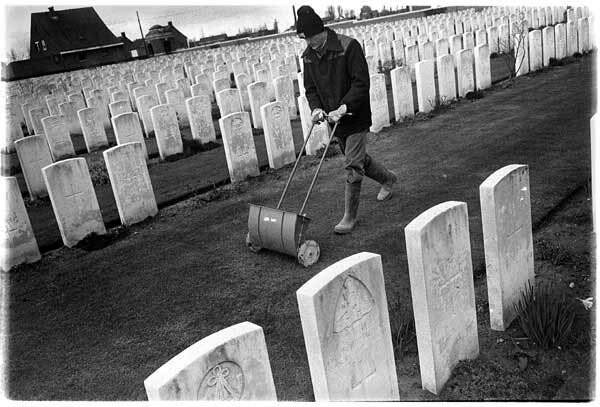 Great War Cemetery in the Westhoek, Flanders
( Picture © )

Willem Vermandere and the visitor to the war-cemetery
Strangely Forgotten Grandfather
By Rob Ruggenberg
Picture right:
Willem Vermandere (1940) is a Belgian sculptor, musician, storyteller and folk singer, who lives in the village of Steenkerke in the Westhoek. That is the Flemish name for the western corner of Flanders, the part that was most heavily touched by the Great War.
In fact, Willem Vermandere's house lies just opposite a Great War cemetery. He grew up facing the dead and the nameless. That made scratches on his mind and his soul. Some of the texts he writes bear witness of that.
One day, he remembers, he was working in his garden, when a car with a British license plate stopped. That is not unusual, as the cemetery is almost daily visited. A man stepped out of the car and went into the cemetery.
Willem did not pay much attention to him, as he was engrossed in his garden. From the corners of his eye he saw the visitor strolling in the cemetery. When he stood up to straighten his back he noticed that the visitor was closely looking at every grave.
An hour or so later the visitor left the cemetery and on his way to the car he passed Willem. The man looked dreary.
"Did you find who you were looking for?", Willem asked casually.
The man stopped. "No, and I am afraid I never will", he answered.
They looked at each other.
"It is a strange story", the man said hesitating.
Willem Vermandere waited.
"You see", the man continued, "I was looking for my grandfather, but I do not know his name."
"That is a bit strange", Willem agreed.
"You see", the man said, "last month my mother passed away. Just before she died she said she wanted something off her chest that had been bothering her all her life. It was something her mother - my grandmother - had said to her. My grandmother had told her, in strict confidence, that her real father was not the man she had called daddy all her life."
"My grandmother, it turned out, had a boyfriend who enlisted for the army in the Great War. When he was in Flanders she found out she was pregnant. She told no one. And then one day, soon, came the dreaded news that her boyfriend had died. My grandmother then married another man. No one ever talked again about the real father of the child that was born."
The man sighed. "When my mother told me this on her death-bed I was shocked. She said she had never visited the war cemetery her father rested in, although she had wanted to do so all her life. She told me the name of the cemetery and she told me the name of her real father."
He paused. Then he said: "She died a few minutes later. In the shock I have forgotten the name of my grandfather. I remember the cemetery, but I do not remember his name. That's why I came here. I studied every name on every stone in the hope that when I saw his name it would come back to me. But it didn't. My grandfather is here, but I do not know who he is. And now I realize I never will."
---
Response on this article.
---

To the Frontpage of The Heritage of the Great War
---