THE HERITAGE OF THE GREAT WAR



From our 'War Picture of the Week' Archive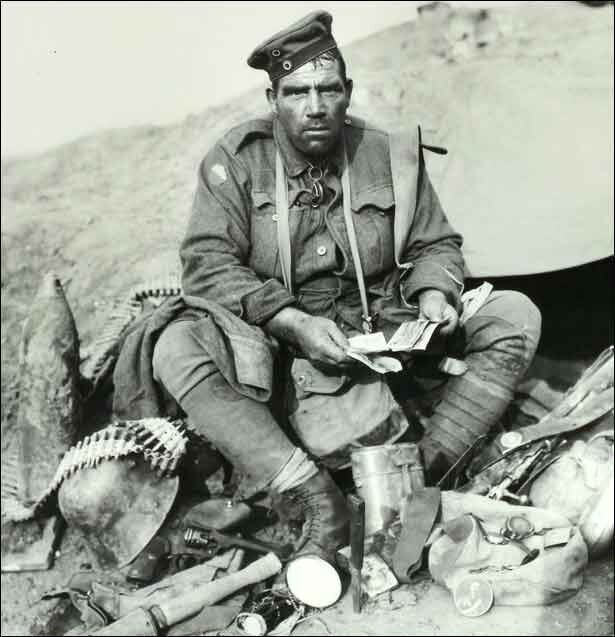 Souvenir King
His name was John (Barney) Hines and he was an Australian soldier. Picture probably made after the Battle of Polygon Wood, near Ypres, Flanders, 1917.
Many soldiers took souvenirs from the battlefields or, sometimes, stole them directly from captured or dead enemies. Private Barney Hines was known as the Souvenir King due to his escapades of robbing the German dead. Apparently the Kaiser heard of him and branded him a "barbarian... typical of Australian Troops on the Western Front".
Of Irish descent, but born in Liverpool, Barney Hines ran away to the army at the age of 14 but was dragged home by his mother. Two years later he joined the Royal Navy and served during the Boxer Rebellion in China. He fell sick with malaria, was discharged, went gold seeking around the world and served in South Africa during the Boer War. When the Great War broke out he was working in a sawmill in Australia. Despite being in his early 40s, he tried to enlist but was turned down on medical grounds. Undeterred, he haunted recruting centres until he was accepted. His time in France added to his legend. He generally disdained conventional weapons such as his Lee Enfield rifle preferring to go into action with two sandbags packed with Mills bombs (hand grenades).
More on colorful Aussie soldiers in our article Trouble with undisciplined Australians. More pictures of ANZAC soldiers in an article on the Australian war photographer and adventurer Frank Hurley.
---

Click on the picture to see the next one in this series

To the index pages of the War Pictures of the Week

To the frontpage of The Heritage of the Great War
---