THE HERITAGE OF THE GREAT WAR



From our 'War Picture of the Week' Archive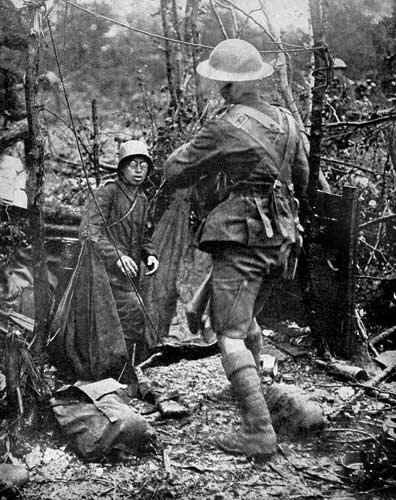 Surrender — fake or real?

Famous picture of a German boy soldier surrendering to a Scottish soldier.
But is it real? One of our correspondents, Fernando Urquijo from Spain, thinks that this picture is faked: "An excellent piece of 'cut and paste', but a disaster regarding perspective and anatomy. The boy is too small and his proportions are wrong. Childrenīs heads are proportionally bigger than grown-up's and this boy has a very small head, while the Stahlhelm fits very well (the smallest WW1 Stahlhelm was size 60). The perspective is wrong too: look at the boy's hand, it should not be where it seems to be."
Anyone with knowledge about this particular picture? Please share your opinion with us.
Click here to see what we found out sofar.

---

Click on the picture to see the next one in this series

To the index pages of the War Pictures of the Week

To the frontpage of The Heritage of the Great War
---